An (almost) Year at AcuteAero
The site's almost a year old! Time for a little check-in about how we've been doing!
The About page has got a new, up to date section reflecting my outlook these days.
I've just moved to a new WP-theme, "Grey Matter" in favor of the old customized K2 with custom header and background that I thought vaguely reminiscent of some Louis Vuitton pattern. Or something. Benefits: nice fresh clean design, and THREADED COMMENTS!
For posterity: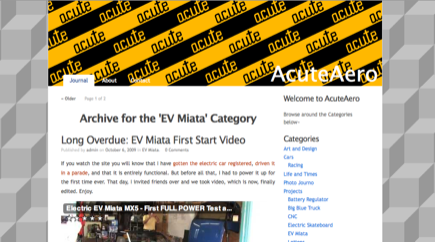 And even further back in the wayback machine- my first header ever:

And second:
Ah, just lovely.
We're coming up on 52 posts in 52 weeks (we're at 51 in 51 currently)- let's look at a few of last year's highlights- posts that I think stand the test of time best:
And on we go- Stay tuned for some really neat new posts I've got planned, on some really wild new projects.
As to traffic- in the last year we've seen almost 13,000 pageviews, over 5,000 unique visitors. About 70% of those visitors in the last 3 days. Thanks to Hackaday!
Here's to another good year!