Impression: 2009 Mercury Grand Marquis
In Colorado over the weekend my Dad and I rented a car- since the rental car lot was out of subcompacts, they gave us an automatic "upgrade" to a "premium" level vehicle- a nearly brand new Grand Marquis. While providing useful transportation all weekend, the Marquis (pronunciation informally decided to be "mar-kees") was also much more interesting than a subcompact could have been. Heck- the Crown Vic is practically american car legend! The car has a significant cachet. It's a classic, iconic car.
That all said, it's also a piece of trash. I will procede to numerically compare it to my benchmark of internal combustion automotive perfection- the 1994 Toyota Camry Station Wagon LE V6 (AKA Pimp Wagon)
| Area of interest | Camry | Marquis | Marquis W.R.T.* Camry |
| --- | --- | --- | --- |
| Cylinders | 6 | 8 | 33% More |
| Displacement | 3.0L | 4.6L | 53% More |
| Horsepower | 188 | 224 | 19% More |
| Camshafts | 4 | 2 | 50% Fewer |
| Curb Weight | 3263 lbs | 4117 lbs | 26% More |
| EPA Mileage | 18 | 18 | Same |
| KBB Value | $2,860 | $28,606 | 900% More |
Starting to get the picture? The Marquis sounds like a cop car and rides very comfortably on the road- but I was expecting a whole lot more grunt when you really mash the throttle and get the revs up. Even burying it deep in the carpet, the Camry is much more responsive and pulls harder. The 'quees's steering is very light and brakes are firm, suspension is akin to a chinese bean cake- squishy.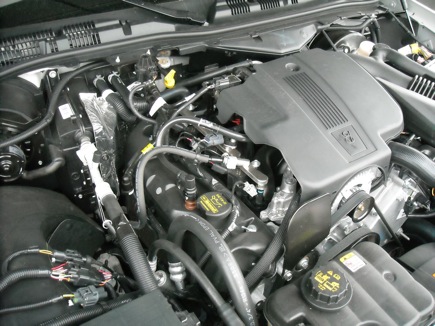 I was impressed by the Marquis' lack of interior space, particularly legroom–
| Area of interest | Camry | Marquis | Marquis W.R.T Camry |
| --- | --- | --- | --- |
| Front Legroom | 43.5 in | 41.6 in | 4.4% Less |
| Rear Legroom | 34.7 in | 38 in | 9.4% More |
| Exterior Width | 69.7 in | 84.5 in | 21% Greater |
| Total interior and cargo space | 140.8 cu. ft. | 128.1 cu. ft | 9% Less |
So, the Marquis, despite being a much larger car has less front legroom and less usable space. It's also insanely wide. As you can tell, I have a high opinion of the Camry- but let's see how the Marquis shines with the really important stuff-
Area of interest
Camry
Marquis
Marquis W.R.T. Camry
Cadavers Stashable
1 small one
5+ big ones
400% More
Number of rear wipers
2
0
∞% Fewer
Likelyhood of being

mistaken for cop

Very unlikely
Quite likely
5 Doughnuts More
Stereo
Bangin'
Lacking
Are you kidding?
Likelyhood of being ignored
Very high
Less
Depends
Americanness
Somewhat
Absolute
Pure Red White and Blue
So, the Grand Marquis is a car to respect and enjoy- in its own way it's really wonderful. It is a classic, iconic, instantly recognizable vehicle backed with decades of American bench-seat cruiser history. It's also a design that seems absolutely stuck in the '90s. The dashboard is huge and impedes footroom enormously. The front middle seat is cramped and the cupholders and lighter are effectively inaccessible when it is occupied. The built in trip computer falls short of expectations, doesn't realize it's potential. There are many more modern cars that are much more functional and innovative than the Vic/Marquis available at the price point. Not to mention that you could have a whole fleet of Camry Wagons.
Regardless, no cars have the cachet and iconic status of the big Ford. I respect the car, but I would not want to own one. I am grateful that I got the unexpected chance to get to know the Marquis over the weekend, the experience wouldn't have been the same with a Focus or dinky Kia, one of the bland throwaway subcompacts so popular with rentals. The Mercury may be technologically behind, but it's not a throwaway piece of crap- I feel grateful to have participated in the American legend that is the Crown Vic.
*(W.R.T. = With Respect To – have you ever been in a college math class??)