The Electric Mega-Skate-Board AKA "Facebreaker" Rides
If you didn't see it, take a look at the previous skateboard post for an idea what this is all about-
For now I'll let the pictures tell the story:
Since the last post I finished welding up the frame, made a front axle on the lathe, acquired batteries and wired up the controls, assembled all the parts, and designed and implemented a return-to-center damper system.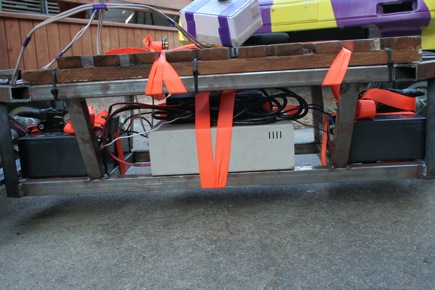 The batteries can be seen on each end of the frame with the motor controller (beige) and charger (black) in the center. The deck is an old kitchen cabinet shelf out of the house my folks are currently renovating.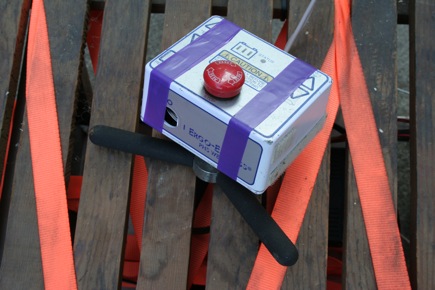 The "potbox" hand controller. One way on the black levers is forward, the other reverse. The E-Stop button cuts power and shorts the motor leads, slowing the vehicle down very fast.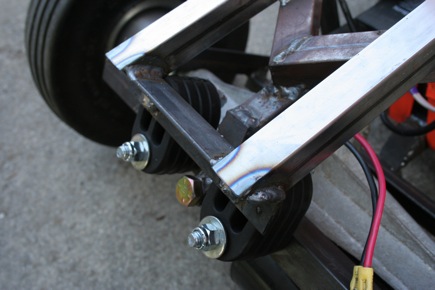 The return-to-center damping action (provided in a skateboard truck by a doughnut-shaped rubber bushing) is here accomplished through the unconventional use of two rubber exhaust bushings, these were sourced on eBay, and are apparently designed for use with some models of Land Rover. I'm not sure how well they'll last but at present they are very effective, they have about the right amount of resistance and are smooth through the entire travel. They are only placed on the rear axle presently, to double the resistance another set could be placed on the front axle.
So, how does it ride? Really nicely, in fact! The biggest problems right now are with the non-intuitiveness of the throttle control, and the excessive aggressiveness of the acceleration and deceleration ramps programmed into the Curtis 1208C controller that is in use. I was showing it to a few people at school, in a bit of a rush and hastily popped the throttle and was thrown right off the back of it as it lurched forward, fell on my wrist and sprained it pretty good. The steering and balancing action however is quite nice. A skateboarder at school gave it a test drive, he picked it up instantly with no hesitation and said it was really awesome. So there's potential. I need to make sure I can't adjust the accel/decel ramp on the 1208, if not I may shop for an adjustable controller (4QD VTX-40 maybe, something from Kelly maybe).
I made this video last weekend before the exhaust hangers arrived- My friends and I just bungee-corded some places on the frame and gave it a try.
My dad rolls it his own way: