DIY Autocross Magnetic Car Numbers
What do you need if you are going to an autocross event with a racecar that has one number on the side, but you are going to be running two drivers? Well, you need another detachable number! What about if that racecar has beautiful but easily-lifted purple and yellow house paint on it? Well, you need a magnetic number then. Clearly. Ah, but what if that autocross is two days away, and you're really cheap? Sounds like you're going to be making your own magnetic car number! But don't worry, it's really easy. Check it out:
First, get yourself a pack of these "TWIN DRAFT GUARD" (AS SEEN ON TV) "MAGNETIC VENT COVERS" from your local Bed Bath and Beyond – maybe walmart or target carries this or something similar as well-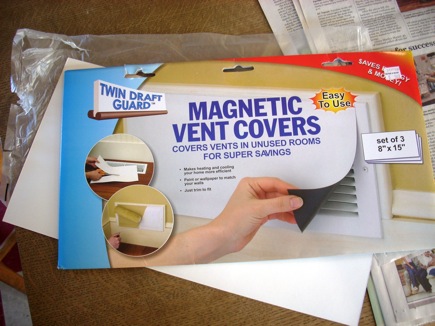 They're not very strongly magnetic, but I tested it on the freeway, didn't go anywhere. And cheap! $9.99 for 3. Good enough.
Next, draw some numbers on them with a fat permanent marker- I decided on 1, so we can be 15, 51, or 5 using the 5 painted on the car. Drawing a 6 would give you the most versatility, as you can just flip it over and it will become a 9- tricky! UPDATE: I just thought of something else- even better. Since the package of magnets includes three sheets, cut one in half and make 1's, then make 6/9s on the other two- then for $10 bucks you've got 1, 9, 6, 16, 19, 61, 91… seven unique number possibilities! That's quite a bargain!
Simple as that! Indeed, they stick to cars! That is, as long as you don't have a Saturn, or DeLorean, or Corvette, or……
But If you have one of those your paint will probably survive some masking tape.