Solar Power is GO
It was dissappointing to confirm that my Prosine inverter was toasted– so I hadn't gotten around to working on the system for a while. Today I remembered that I have an old modified sine wave inverter in storage from the first and never functional version of the solar power system- I dug it out and hooked it up: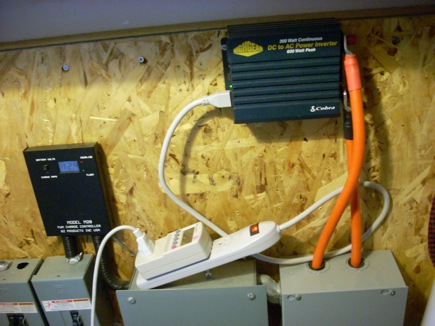 I realize it's just a bit over-wired, 2/0 for a 300 watt inverter is truly ridicculous- but it's not hurting anything and the value of just being able to hook parts up without redoing a million different things is truly wonderful every (infrequent) time it works out that way.
I ran my macbook charger on the inverter all afternoon, works great! I'm going to let the solar float charge the batteries again tomorrow and then I will be set to hook up the PFC charger to tune its voltage cutoff, now that I have a good way to pull power out of the batteries. (this is all part of the plan to characterize the behavior of the PFC's regbus, as described previously) I still plan on hacking up a 12v laptop charger and installing some 12v lights but that can wait, it sure is cool to be able to use the solar power I haven't been taking advantage over the last several years.