Electric Miata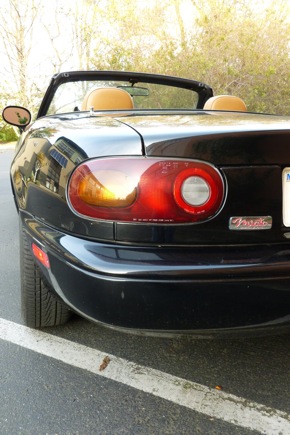 I began converting a Mazda Miata to battery electric operation in 2007. As of 2010 the conversion was mostly complete. It's a medium-performance PbA based system.
This car has been sold! see this link for Ad Copy.
A log of some parts of the build is here.
Specifications:
Donor car: 1994 Mazda Miata (1.8L m-edition)
Motor: WarP 9″
Motor controller: Zilla 1KLV
Battery pack: 12x Optima Yellow Top D34
Charger: Manzanita Micro PFC20
BMS: Manzanita Micro MK3 Lead
DC/DC converter: Belktronix Isolated 600W
Final Weight: 2700 LBS
Top speed: 70+ mph
Range 5-15 miles depending on condition of the battery, driving style.
Details:
(This photo from 6/2009)