Running Endurance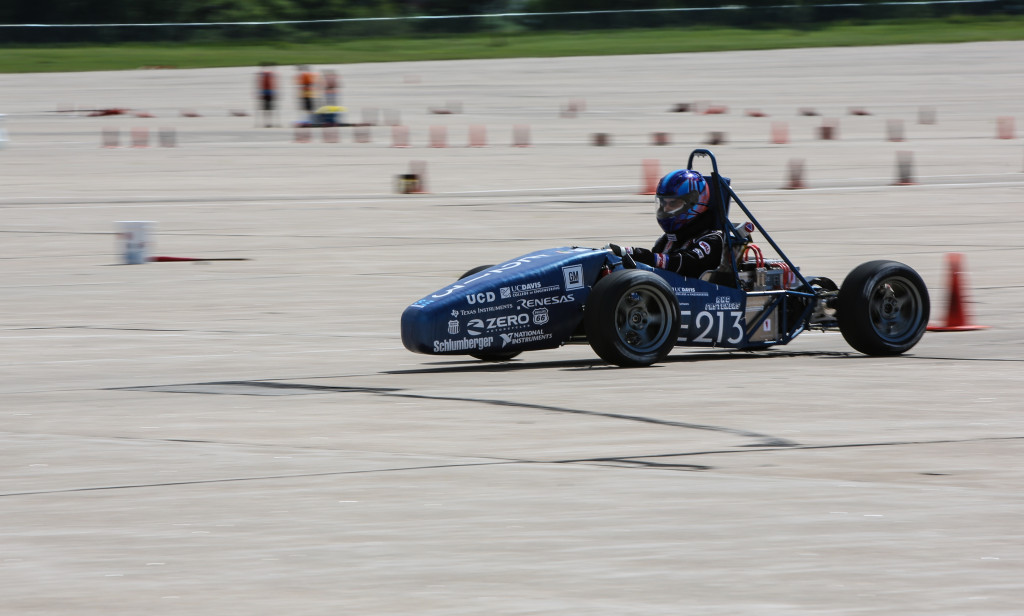 Just having finished out tech inspection did not mean the challenges were over. We had a last minute plan to fix the turning radius problem, with some spacer modification, we needed to charge the car, and were hoping to get in at least one or two shake-down laps on the practice course.
But, as it always is, the case, the steering modification, although successful, took longer than hoped, and as soon as I was willing to cut off the charge, we began rolling over to the practice course and then heard the call to grid come on the loudspeaker. We turned back around and headed toward the endurance course.
We gridded up with the two other cars, the Brazilians from Unicamp and the Canadians from McGill. Both of their cars were better tuned and faster than ours, but this was our shakedown run. I made the decision to leave the torque limit at 50%. Partially because we didn't have time to change it, and partially that since now that we were running blind without instrumentation I wanted to make sure we were gentile on the battery (because now, our only feedback that we had hit limits would be the latching, not reset-able total shutdown), and less torque would make the badly tuned suspension more manageable.
I drove the first stint since I was most familiar with the operation of the powertrain and wanted to have the chance to listen and feel for any potential problems.
The car ran perfectly. Unfortunately the chassis was not set up evenly and was able to put power down out of left-hand turns far better than right, and the track was run clockwise… so there was much opportunity for spinning the inside tire coming out of turns. And it wasn't quick, due also to the low torque limit. But I felt very reassured that it was functioning properly during my time driving.
So I gave our second driver Ivan the green light: Go for it. And he did an excellent job of finishing the second session. Checking the SOC and battery temperature after the event was a good surprise, with 40% SOC and 45C, still 10C away from the hard limit.
As they always say, the best way to do well at FSAE is to finish endurance.